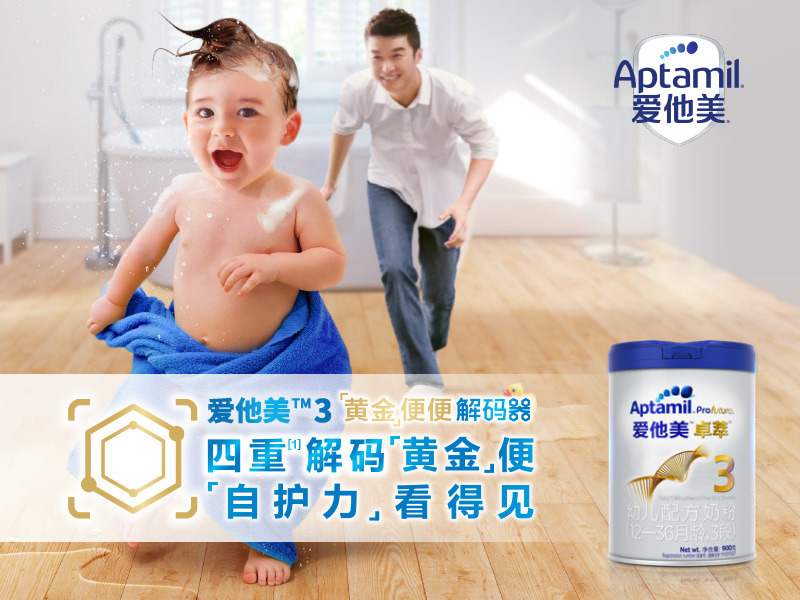 2021提名奖
Aptamil Golden Poo Decoder黄金便便解码器
ROI-B-2021-23978
品牌公司组 / BD-1003 新零售
---
| | |
| --- | --- |
| 参赛公司 | 达能 | Danone |
| 广告主/品牌主 | 达能中国 |
作品信息
| | |
| --- | --- |
| 发布日期 | 2020年6月 |
| 预算/研发成本 | 500-1000万 |
| 公益 | No |
| 行业类别 | 食品零食 |
| 品牌 | 爱他美 | Aptamil |
---
作品描述
背景
Co-Created in China for China and the world, the pioneering "黄金便便解码器" is powered by AI. In user survey, 52+% parents checked their babies'poo and took pic to get advice from healthcare professional (HCP) and other parents. after covid-19 they are more tensions and focus on immunity.
目标
Build brand awareness and positive health technical perception among parents
1.Offer Personalized service to makes reassurance to visualize
2.Build supper and personalized brand experience for consumer then trigger out word of mouth communications
3.AI algorithm consistent to upgrade the accuracy
创意
Aptamil黄金便便解码器 based on science and hcp endorsement. Simplified 3 clicks to AI decode baby's poo result and advice. AI algorithm will recognition about "poo on diaper", "Poo texture" ,"Poo color" , "Poo's result +advice+tips related to nutrition".
结果
•黄金便便解码器AI algorithm decode 4000+ combinations to be one precise result and tips
•1+ million Users, 30+ million clicks, and more than 20% users shared this digital service to peers.
•AI algorithm upgraded to 90+%.
分析
It is brand ambassador that help our consumer to understand baby's gut health. It placed online offline: Tmall store, JD, Baby vertical platform, social media, Kol, WeChat, offline store etc. And co-branding with P&G Pampers drive traffic cross brand. AI is makes science visible and tangible.
---
APTAMIL stool tracker - ROI