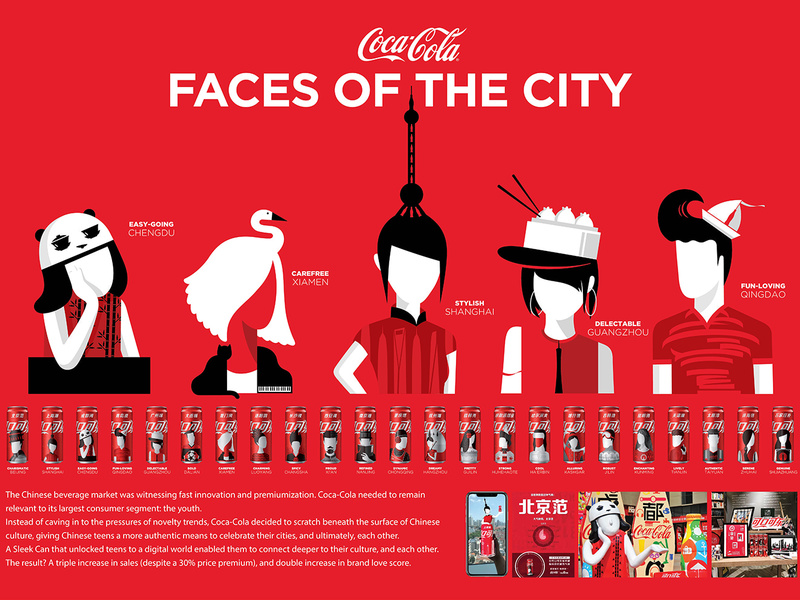 2019金奖
可口可乐城市肖像
RC-W-2019-10257
代理组 / CA-2005 创意整合
---
| | |
| --- | --- |
| 参赛公司 | 麦肯光明 | McCann Erickson (上海) |
| 广告主/品牌主 | 可口可乐 Coca-Cola |
作品信息
| | |
| --- | --- |
| 发布日期 | 2018年6月 |
| 预算/研发成本 | 100-200万 |
| 公益 | No |
| 行业类别 | 非酒精饮料 |
| 品牌 | 可口可乐 | Coca-Cola |
---
作品描述
背景
In China, the beverage market is highly saturated. Not only are you competing against other carbonated drink makers, you are also competing against taste preference of water and tea, and not to mention local Chinese drink brands. Stiff competition against other sparkling drinks, water, tea and other local Chinese beverages.
目标
The Business Challenge: China's beverage market is highly saturated, where Coca-Cola competed not just against other Cola's but against taste preference- water and tea. To stand apart, while competitors focused their efforts on novelty of new flavors and big promotions, Coca-Cola decided to focus on premiumization. This created a business challenge for us: To launch a product priced 30% higher than its regular cans with lesser volume of drink.
The Product Challenge: Knowing that the sleek "slim" design of the cans would not be enough, we set out to create a design and campaign that would truly resonate, offering intrinsic and emotional value to our target audience: Chinese teens living in urban China cities (where these premium cans will be sold).
The desired outcome being:
• Increase sales volume by 30% (with a 30% price upscale)
• Increase Brand Love by 2% (Given that Coca-Cola has already built high awareness and affinity in the past 40 years, we were now taking small steps to steadily lift our Brand Love scores among existing consumers)

创意
Referencing Don Norman, the "godfather" of user-centered design, we created a can design that aimed to trigger a personal response at the Reflective Level.
Understanding that cities play such an important role in their lives, we personified the top 23 cities in. Each illustration aimed at triggering the fond memories (or fantasies) the person might have of the city being displayed.
From Can to Mobile:
Catered to our mobile-first teens, we created an AR-immersive experience in partnership with Baidu that transported teens back to their beloved cities. Activities included a 360 city tour, a real-time map to interact with other people online, and trivia games.
Further Amplification:
• KOL's were engaged to share their personal city stories
• Restaurants and retailers were engaged for further promotion
• TVC spots targeting urban youth aired on high-rated local programs and premium accounts
• Targeted digital and mobile ads

结果
Business Impact:
1. Increased sales volume by 226% versus previous year.
2. Increased Brand Love scores by 6.8% versus previous year.

Communications Impact:
1. Cans were scanned 4.8 million times
2. Social and Digital - 640 million impressions


Value-Add to the Brand:
1. City Cans went a level deeper into local culture than any Share a Coke campaign had, teens began to identify themselves through the cans, posting their own city stories. Others began collecting the different cities to reflect their diverse identities. The cans became a symbol of who they were.
2. The design of the cans also gave new life to a traditional medium by providing an offline to online experience, making it relevant to Coca-Cola's mobile-first audience.

City Cans is now a global charter, and will be rolling out this summer in UK, Mexico, Turkey, Pakistan and US.

---
Beverage Non Alcohol
This picture only works as a supporting file to showcase how we execute big idea into the packaging.
---
制作信息
公司网络
麦肯集团 | McCann
集团公司
IPG集团 | IPG
代理公司
麦肯光明 | McCann Erickson (上海)
广告主/品牌主参与人员信息
1. Company: McCann-Erickson Guangming Ltd Shanghai
2. Individual credit:
• McCann:
Coca-Cola Asia Pacific Chief Client Officer: Cia Hatzi
Coca-Cola Regional Executive Creative Director: Norashikin Manjit
Executive Creative Director: Michael Li
Senior Art Director: Brian Mok
Copywriter: Yitian Yang
Regional Strategy Director, APAC: Richard McCabe Richard.McCabe@mccannwg.com
Group Account Director: Felicia How
Senior Account Manager: Sophia Guo
• Client:
Coca-Cola Greater China & Korea Head of Content, Creative & Design: Richard Cotton
Coca-Cola Greater China & Korea Design Lead: Steve Llewellyn