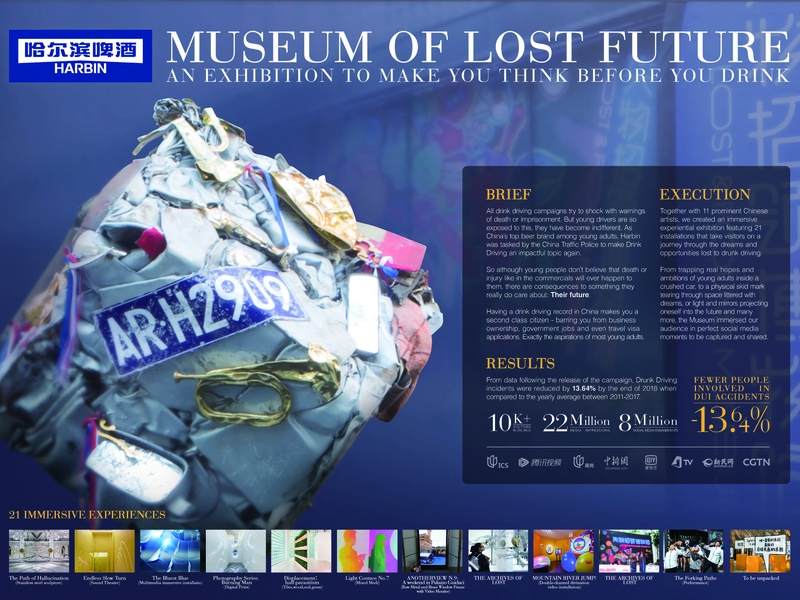 2019提名奖
Harbin Responsible Drinking
RC-W-2019-12773
代理组 / CA-1010 户外
---
| | |
| --- | --- |
| 参赛公司 | 百比赫广告(上海)有限公司 BBH CHINA |
| 广告主/品牌主 | 哈尔滨啤酒 Harbin Beer |
作品信息
| | |
| --- | --- |
| 发布日期 | 2018年10月 |
| 预算/研发成本 | 200-500万 |
| 公益 | Yes |
| 行业类别 | 酒精饮料 |
| 品牌 | 哈尔滨啤酒 | HARBIN BEER |
---
作品描述
背景
In a total of 21 art installations spread across 9 rooms, The Museum of Lost Future took young adults on a journey through dreams and future opportunities lost to drink driving.
目标
As the most preferred beer brand in China amongst young adults, this was the perfect opportunity for Harbin to change the topic from death and imprisonment to something young adults really care about losing: their future.
创意
A criminal record of drunk driving excludes you from top-level jobs, starting a business, some international travel, and much more. Exactly the types of things young adults in China aspire to.

Once you drink and drive, what you actually stand to lose is your future.
结果
12,000 visitors in 2.5 weeks
6.2B Media Impressions
RMB88.8M in earned Media Value
8,5M Social Media Engagements
-13,64% fewer people involved in DUI accidents by the end of 2018 - compared to the yearly average between 2011 and 2017
---
RD Case Board
参赛案例模板PPT - Harbin lost future
---
制作信息
| | |
| --- | --- |
| 公司网络 | 阳狮 | Publicis |
| 集团公司 | 阳狮集团 | Publicis Groupe |
| 代理公司 | 百比赫广告(上海)有限公司 | BBH CHINA LIMITED (上海) |
| 广告主/品牌主参与人员信息 | Hower Ji,Brand Director,0086-137-6162-7399,Hower.JI@cn.ab-inbev.com |