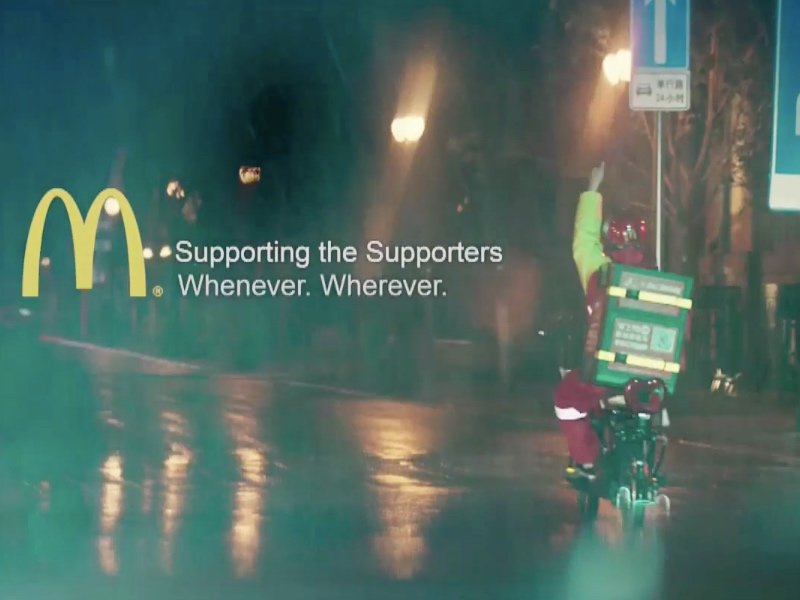 2019提名奖
McDonald's China World Cup FIFA 2018
RC-W-2019-13376
代理组 / CA-2008 视频创意
---
| | |
| --- | --- |
| 参赛公司 | 李奥贝纳 | Leo Burnett (上海) |
| 广告主/品牌主 | 麦当劳 McDonald's |
作品信息
| | |
| --- | --- |
| 发布日期 | 2018年6月 |
| 投放周期 | 4 weeks |
| 预算/研发成本 | 2000-5000万 |
| 公益 | No |
| 行业类别 | 食品零食 |
| 品牌 | 麦当劳 | McDonalds |
---
作品描述
背景
Convenience is being re-defined in China with the advent of innovative digital app services in China. Naturally, consumers today would expect fast food to be faster…delivered to the door with just one click away. During the FIFA World Cup, the demand for food delivery speed and convenience gets even more paramount, especially when all live games were kicked off at midnight China time (with 5 hours time different between China and Russia) in 2018. Without a national team to support, Chinese fans tend to take the occasion as get-together and party time, whenever and wherever they can grab a screen.

This provided a perfect opportunity for McDonald's to demonstrate its unparalleled convenience of McDelivery service. Wherever you are watching with whomever together, delicious food will arrive within less than 30 mins 24/7.

目标
Leverage FIFA 2018 to strengthen the"unparalleled convenience" of McDelivery service, i.e. less than 30 mins to consumers 24/7, so as to drive brand affinity as well as visit and order.
创意
The Idea: Support the supporters, whenever, wherever
This campaign was staged in three phases that synchronized with the build-up of World Cup fever. We created World Cup hype and excitement among football fans in the pre-launch stage, building anticipation for the FIFA World Cup and the chance to celebrate together.

结果
Unparalleled convenience delivered these unparalleled results.
Business:
McDelivery sales growth more than 30%
Midnight daypart Comp Sales increased more than 20%

Members Digital Engagement:
2 million+ Online quiz participation, total UV reaching 8 million+
A few millions of McPoints were awarded

Digital:
Daily active users of McDonald's App increased more than 30%
4 Million+ new members recruited
---
ROI 参赛案例 - McD FIFA submission final_0613
Write up of the FIFA case
McDonald's China World Cup FIFA video
McD FIFA creative video
McDonald's China World Cup FIFA 2018 case video
Case video - McD FIFA campaign
---
制作信息
公司网络
李奥贝纳 | Leo Burnett
集团公司
阳狮集团 | Publicis Groupe
代理公司
李奥贝纳 | Leo Burnett (上海)
广告主/品牌主参与人员信息
Creative Director - Bati Wu
Senior Art Director - Wicky Wu
Business Director - Algra Chan
Head of Content Production - Tammy Chui